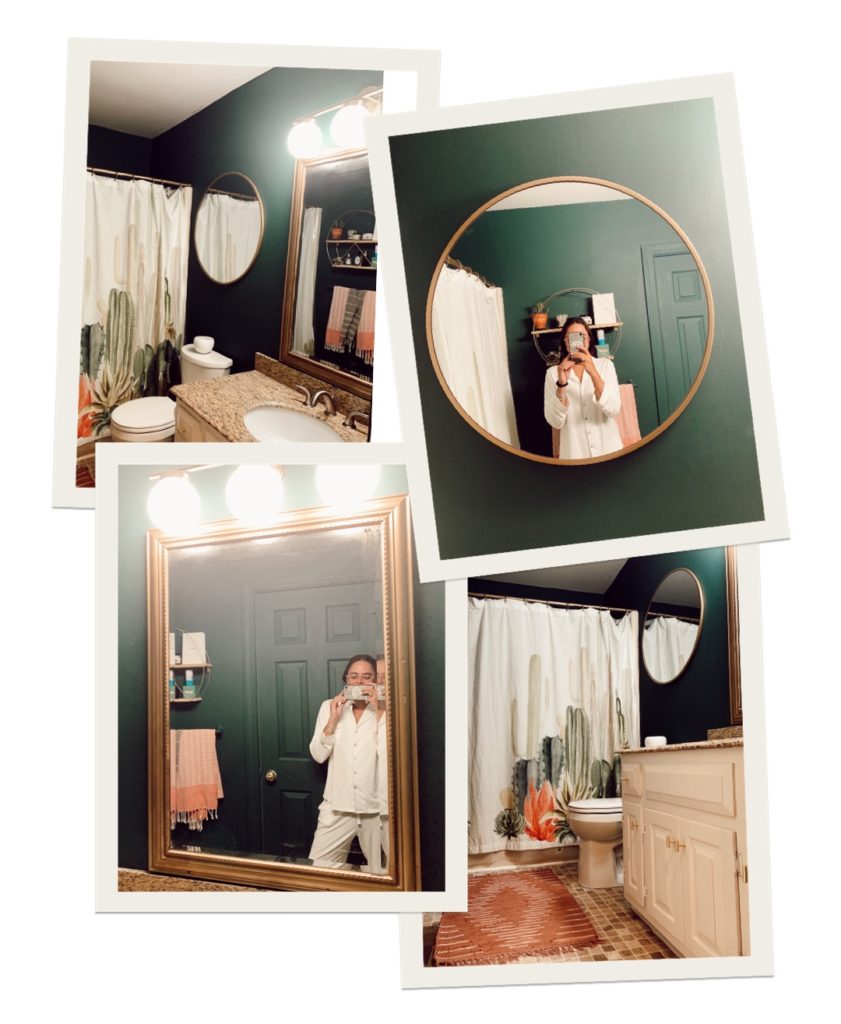 We all took on quarantine projects right? What started as "we need a new light fixture" turned into, let's remodel the whole bathroom. I am by no means a professional and this was very DIY, so proceed with caution 🙂
We had to have some electrical work done in our downstairs bathroom (the guest bath / main bathroom on the first floor), and when the electrician was fixing the fixtures, he asked if we planned on painting the bathroom anytime soon. A light bulb went off in my head. Well, no, we weren't but now we are!! I looked at the bathroom with new eyes and had never really noticed that the walls were a super pale peach and the cabinets a horrible brown. SO, a few weekends later I started on my project. Let's just say it took a lot longer than expected to remodel the whole bathroom.
~ BEFORE ~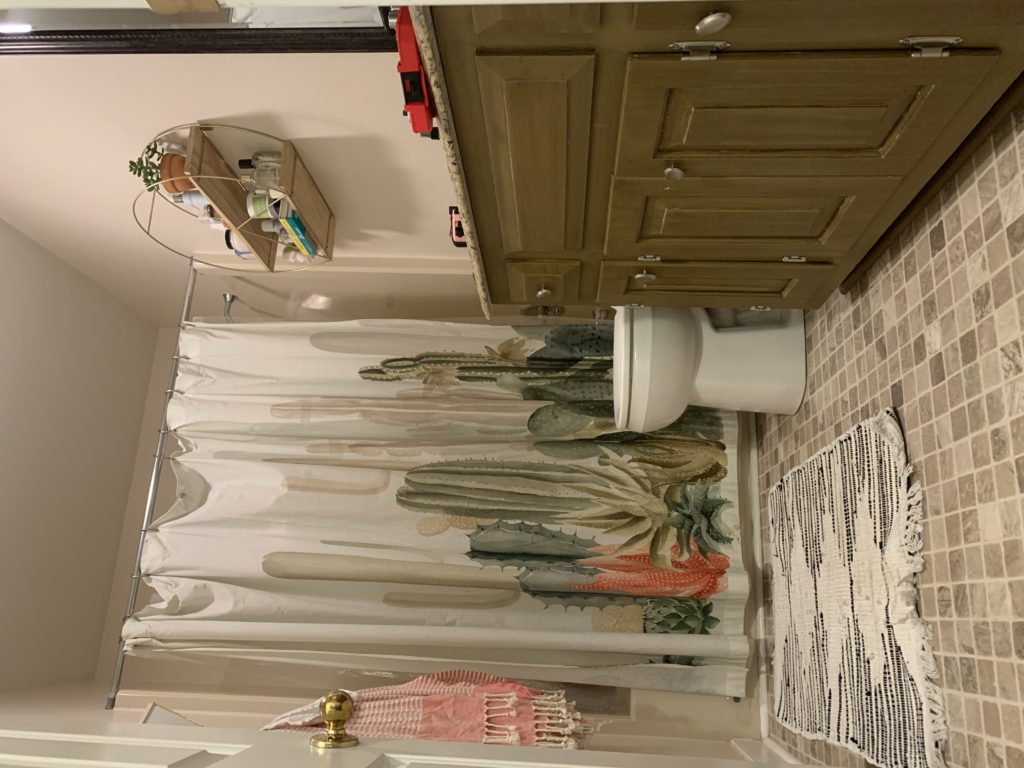 I snagged this shower curtain on sale on Urban Outfitters a couple years ago, and knew when we decided to redo the bathroom, that I wanted it to be the focus! A fun shower curtain is a great place to start if you are looking to revamp your bathroom in any capacity. Here are some great ones out there right now, as this beauty sold out a while ago!
---
---
I knew that the first thing I wanted to do was to paint the cabinets. We had some leftover white paint at the house, so I just used that to make things easy. I also realized we needed new hardware for the cabinets and since we had the gold shelf from Urban already, I picked brass hardware, which was surprisingly hard to find. I guess most people use silver, but I already had my mind set and was able to find some
at Lowe's.
I also realized that I liked the black and white rug from Urban but it was out of place in this room, so I moved it upstairs and got the same rug, just in a
rose color
to match the shower curtain.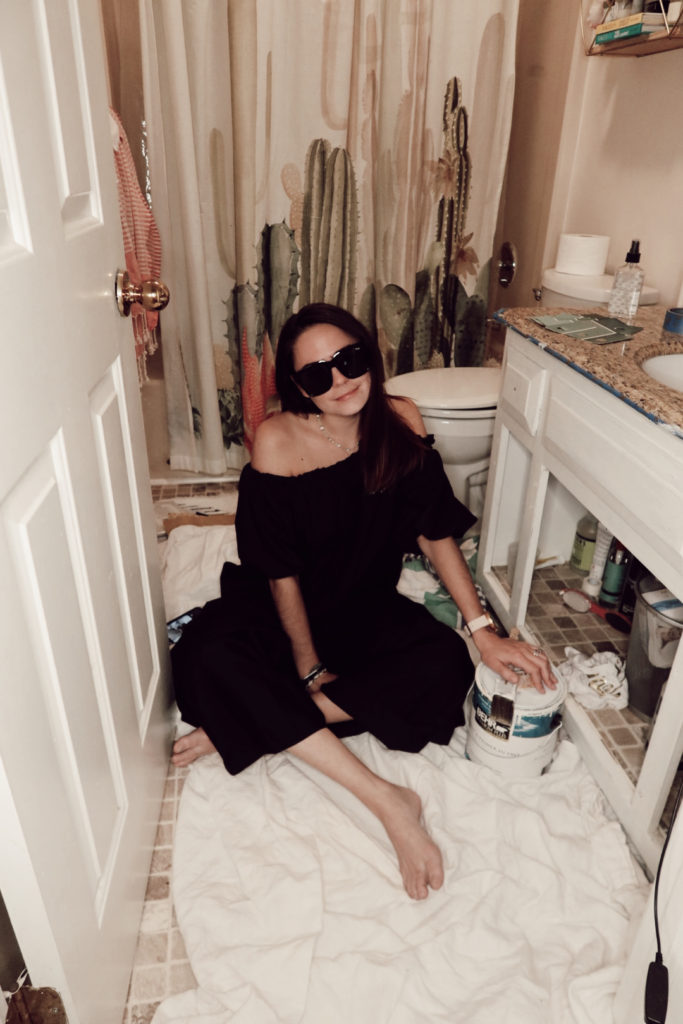 After Step 1: Away with the poop brown, hello brass hardware and new rose rug from Urban Outfitters.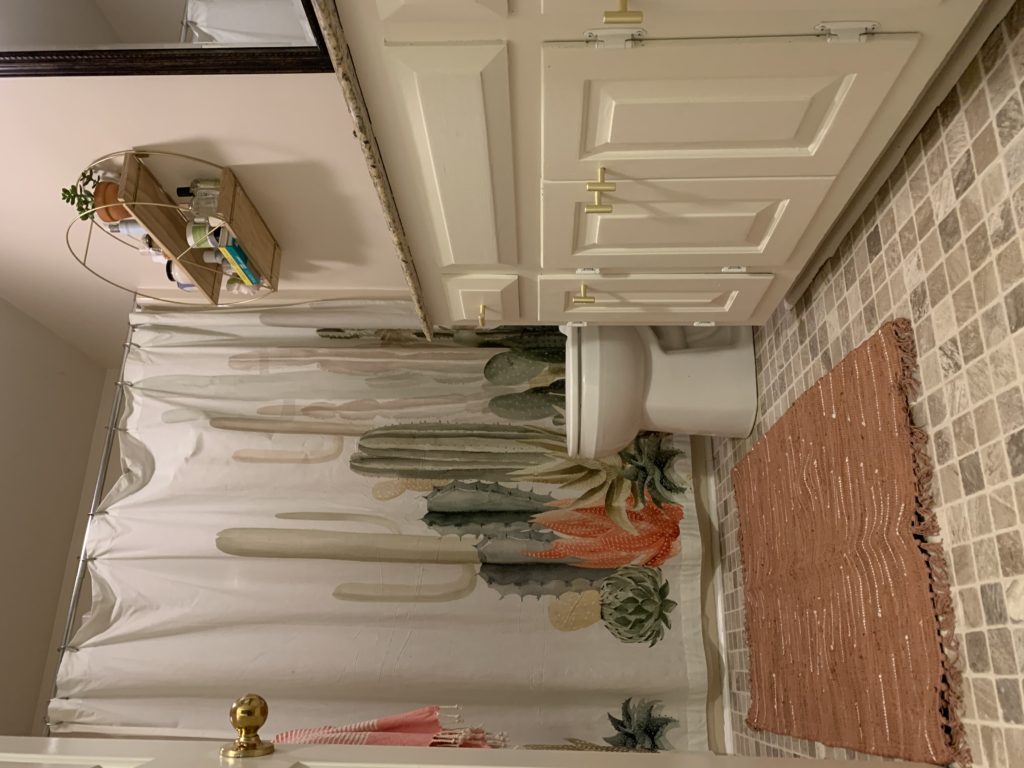 DURING ~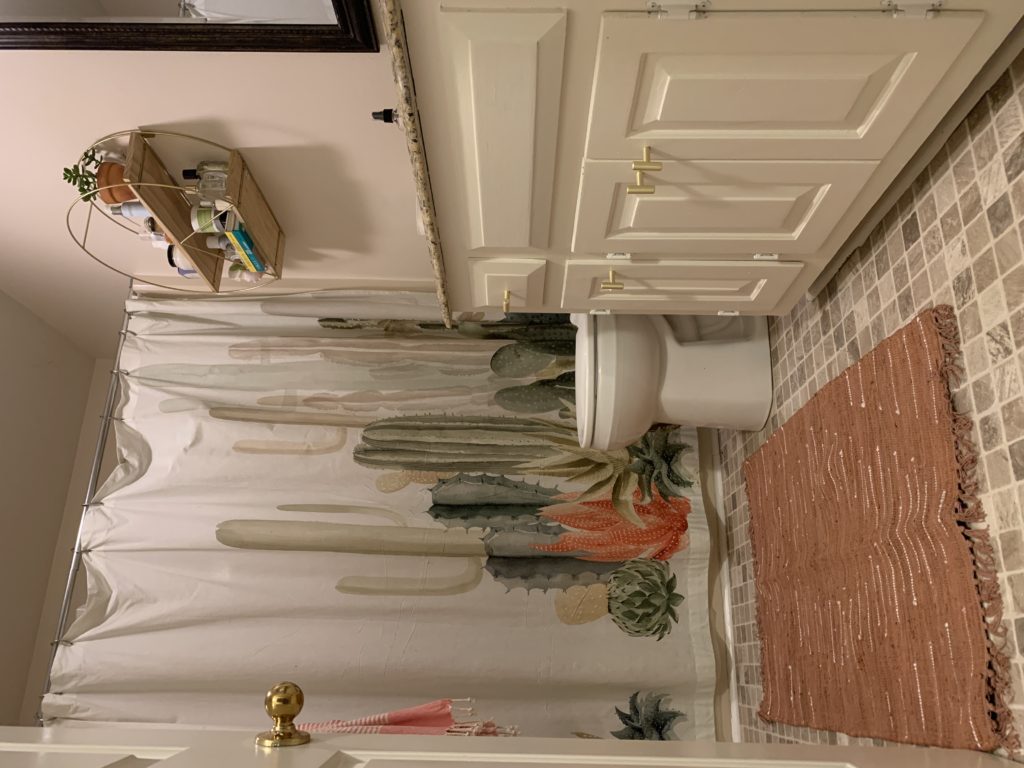 Next, it was time to choose a paint color. I probably got like 20 paint swatches
from Lowe's
before I made the decision. I polled my instagram followers and got advice from my sister, mom and friends! We ended up deciding on Valspar Canadian Fir, but Coriander & Olive was a close second. I got a sample of the two and painted small sections of the wall before choosing the final color. (See blow)
DURING ~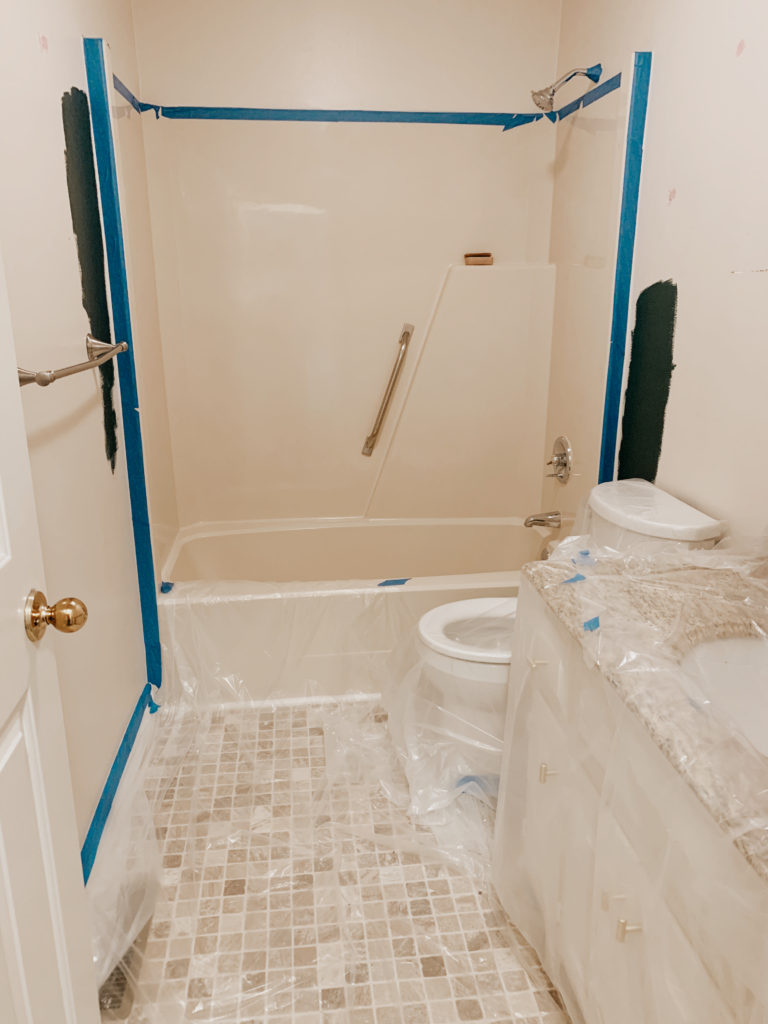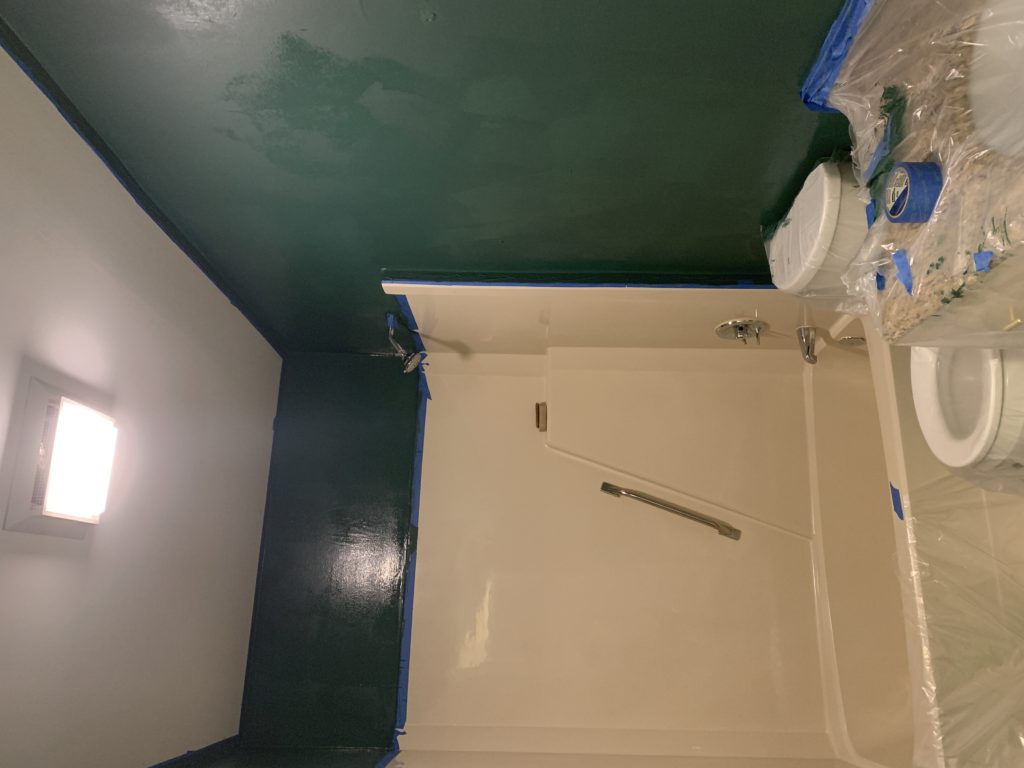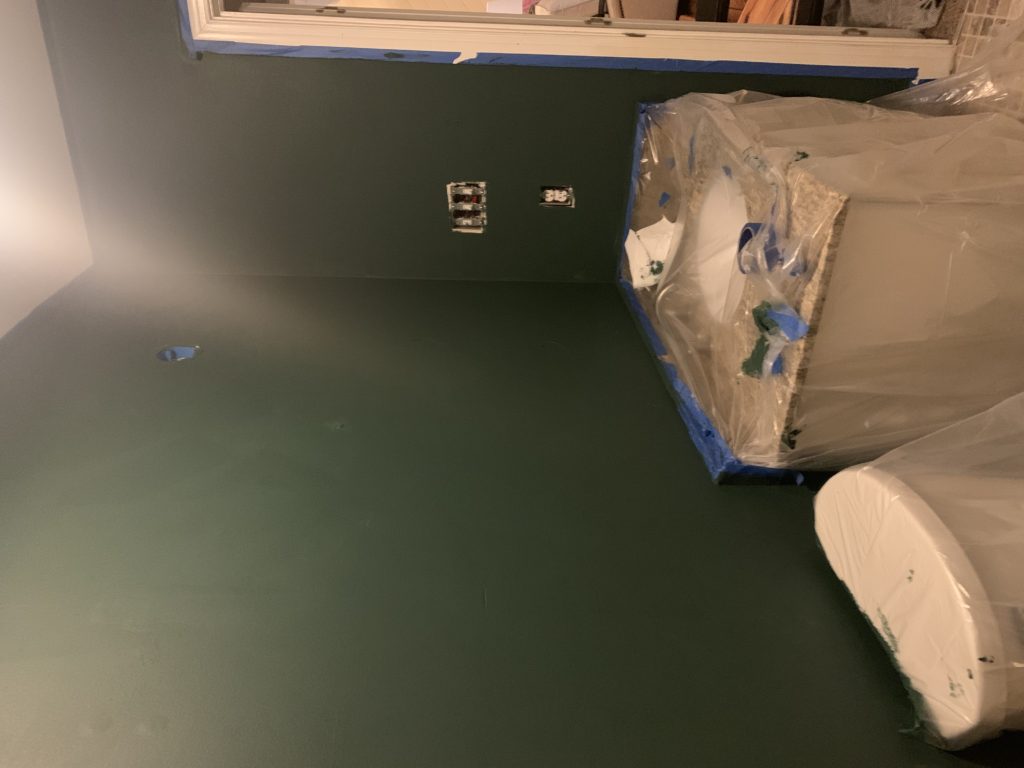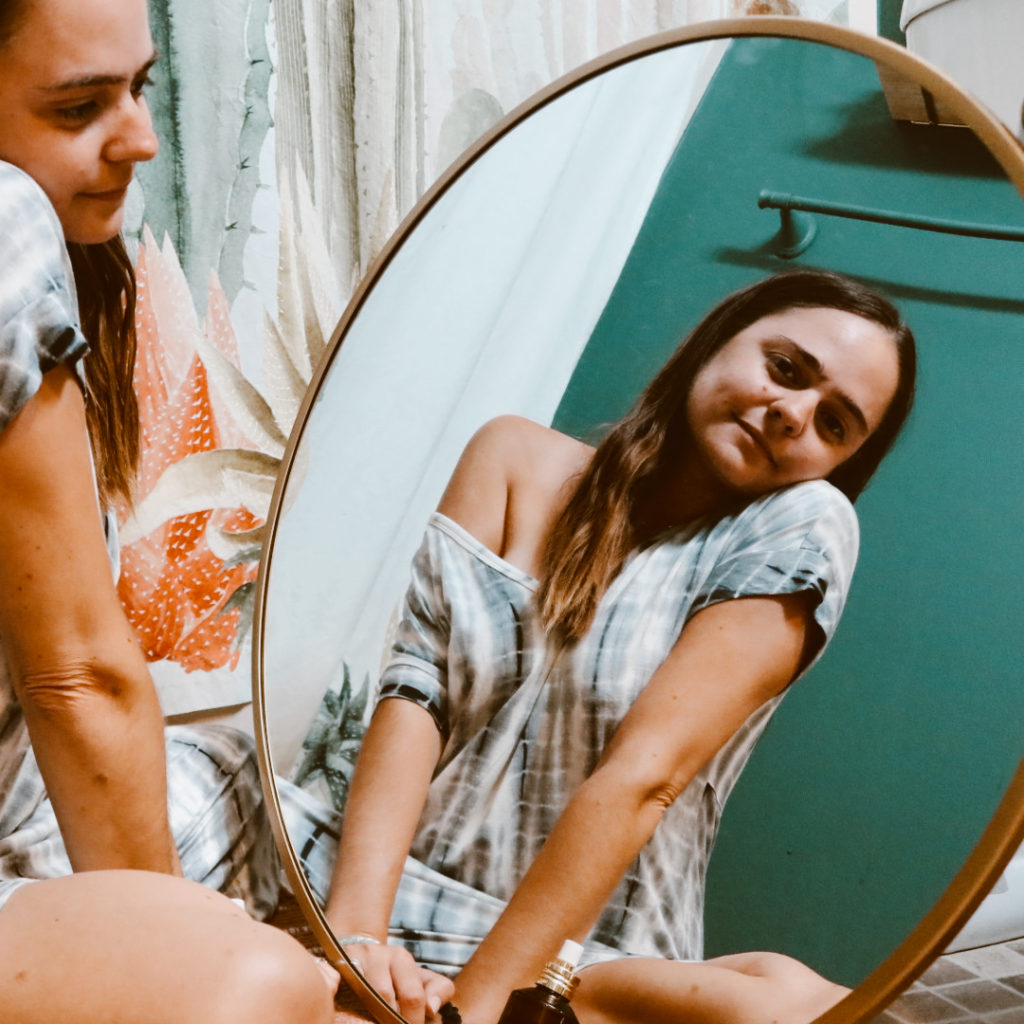 Let's not forget the light fixture that started the whole process! I knew I wanted some sort of vanity lighting and fell in love with
this one from Lowe's.
You can spend a lot on a light fixture and I was a little worried that this one was so affordable. However, from what we can tell, it works just as well as ones that are 3x the price.
---
---
Next, I got this
round mirror
from Target (such a great price, highly recommend!) with the intention of hanging it above the sink, but unfortunately we did a little bit of a hack job spackling the wall from the previous screws that we had to change up our idea. If you look closely enough at the photo below you can see the spackle job. OOPS!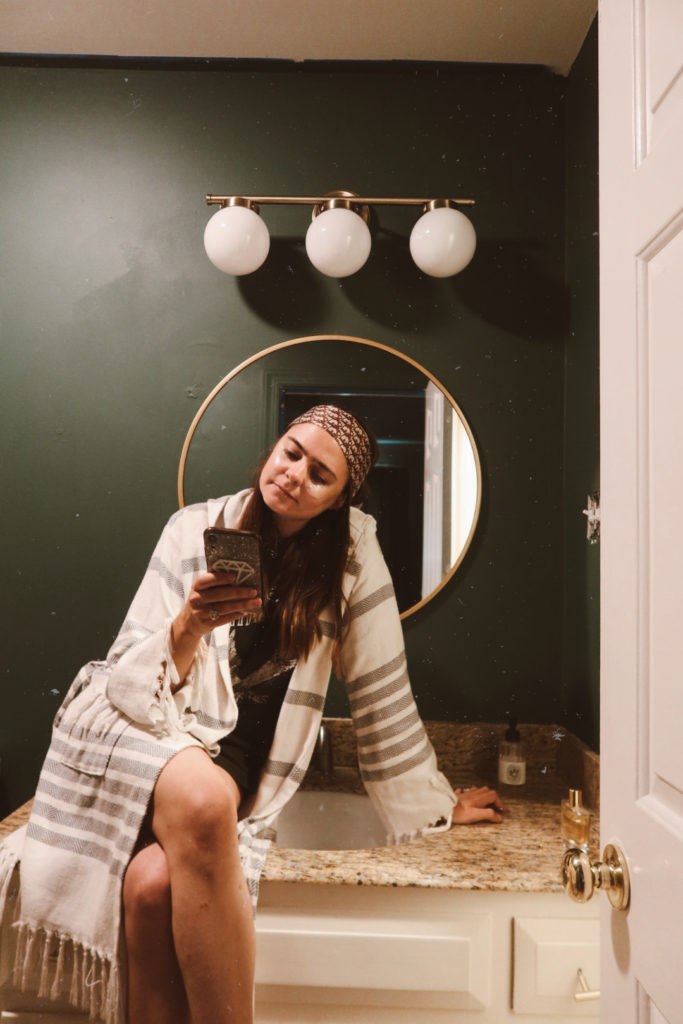 SO, we ended up spray painting the original mirror, and hanging the circle above the toilet meaning we had to move the Urban Outfitters shelf to the other wall. Below is the full finished product, minus some paint touch ups that need to happen with the ceiling. Overall it was a much more involved process than I anticipated and I learned a LOT along the way. Next up is our master bathroom. Stay tuned.
~ AFTER ~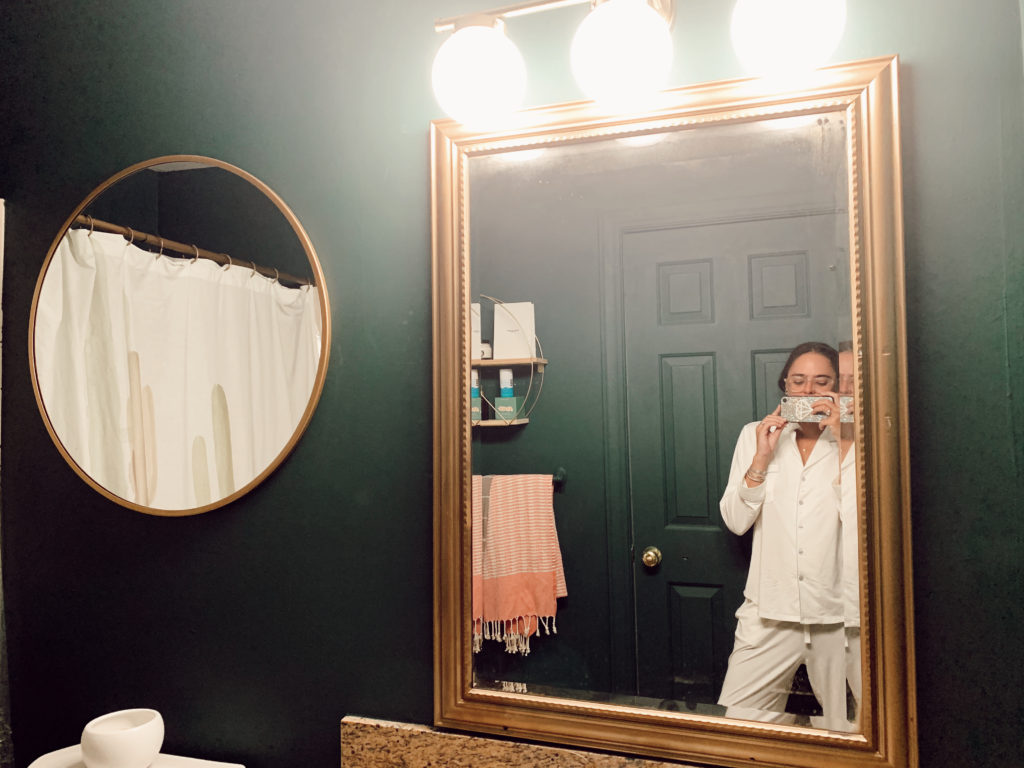 yes, I know, we are missing a shower hook, but you can't win them all.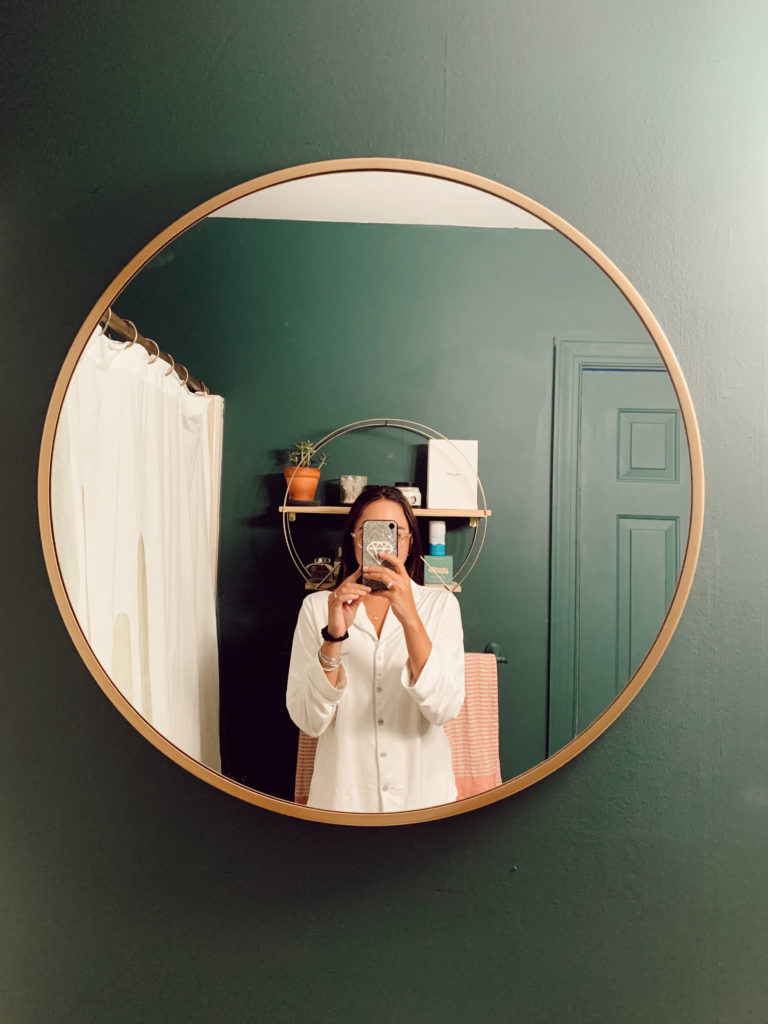 PS. A few more days to grab these Cozy Earth Pajamas on sale for 50% off with code REBECCA_50!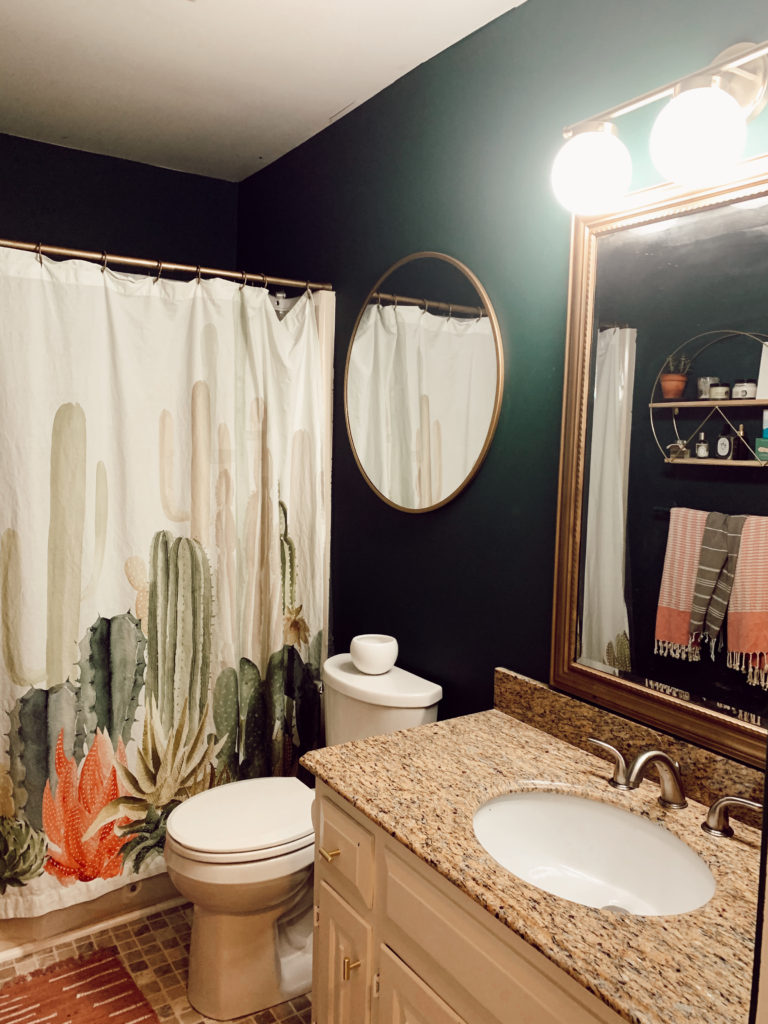 ---
---
~ PIN FOR LATER ~