It has been a while since I posted a regular OOTD, but this outfit felt like it warranted its own blog post, it is that good.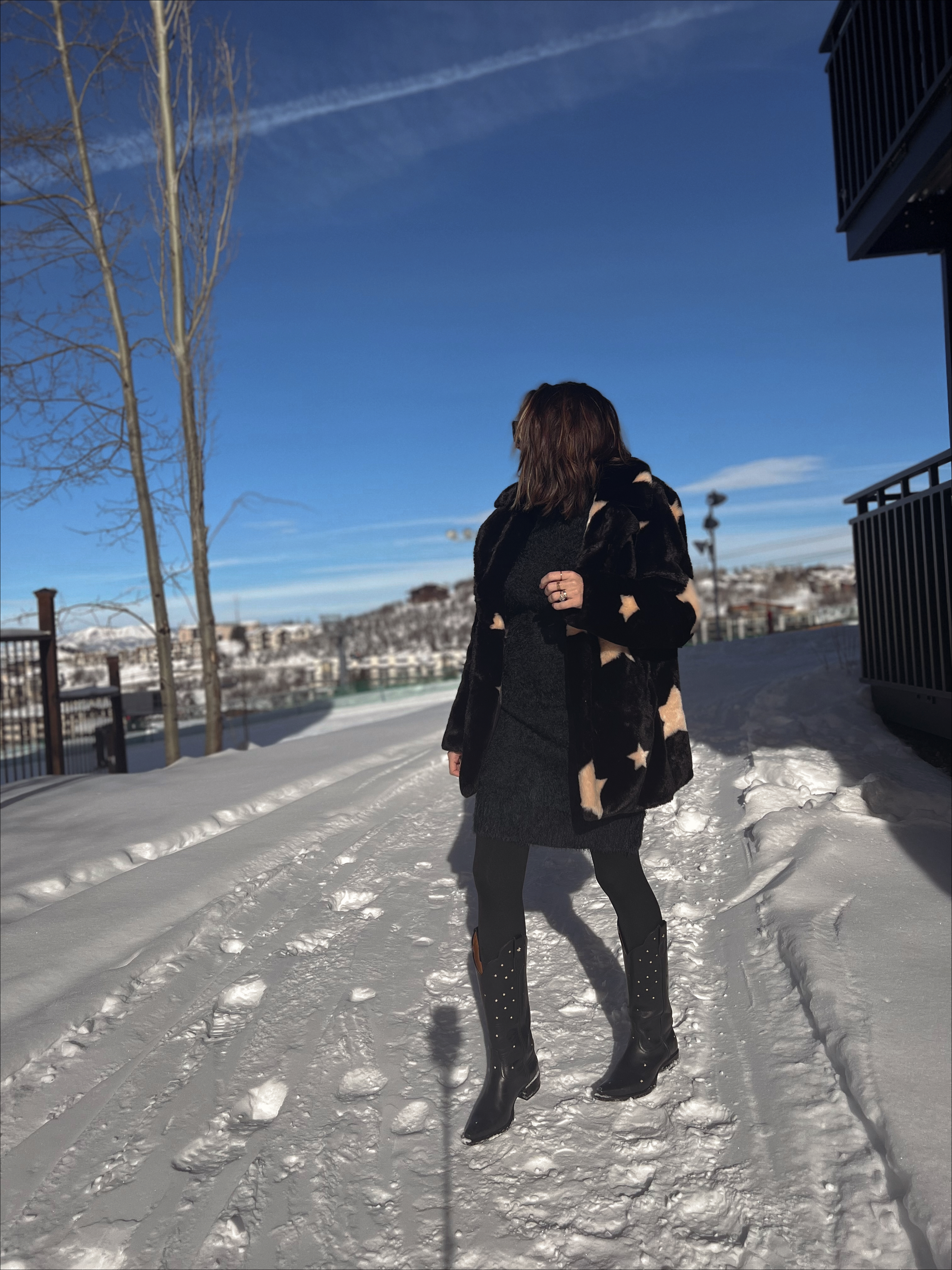 Helloooo, good old outfit post! It has been too long.
We fell out of the routine of posting outfit photos on here, because we thought that might be limiting. Over the past few years we have been doing more "round-up" style posts. AKA Black dresses for winter. The Best Cowboy Boots. Faux Fur Coats and Statement Outerwear. You know the drill.
But when I was going through the looks from my recent trip to Steamboat, I thought that this post would make for a good old piece by piece outfit post. It will of course include a round-up of faux fur coats within the post, because I'm me and I just can't help myself. But, lets talk about the other parts of the 'fit first.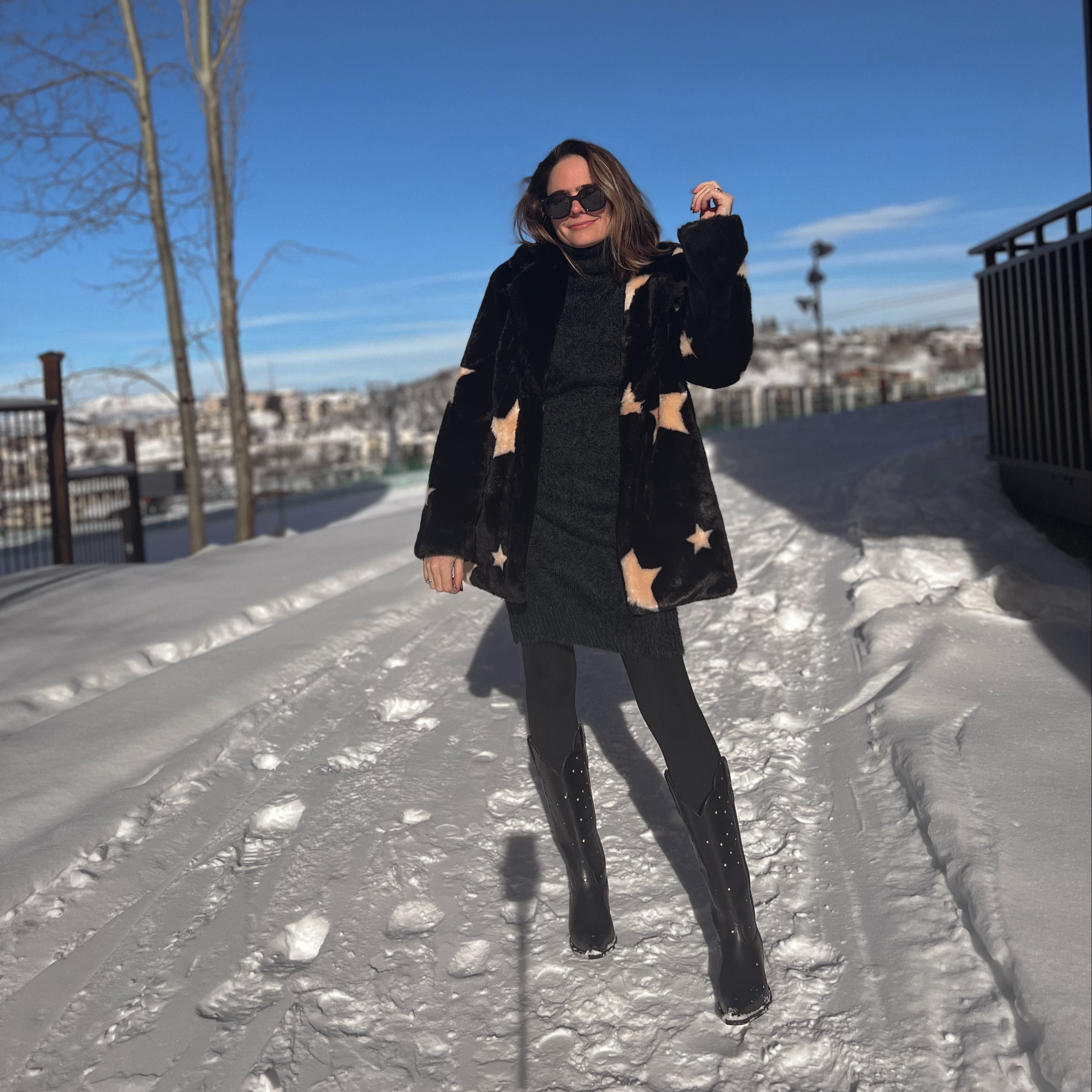 Because the coat and the boots make such a statement, I think the dress gets overshadowed, but it definitely is a star of the show in its own way. This fuzzy turtleneck sweater dress is under $50 and seriously cozy AF. Don't sleep on this piece. Seriously. It would be perfect for the office, date night or just "getting dressed" at home, while staying comfortable. Let's call it the perfect winter LBD. For my fellow mamas to be, there is plenty of room for a growing belly in here, too!
Next, the fleece lined leggings. These are a winter MUST. I wore these basically everyday either under my other pants or if we were going to be inside while we were in Colorado. If you like to be active during the winter months, I highly recommend. They are literally lined with faux fur. So freaking cozy and a great base for any look. I just noticed that this particular pair is "one size" which in reality is more like XS-Medium. Amazon has lots of options, though. Just be sure to read the reviews!
Ah, faux fur coat. A must for the winter. A must for bringing "Main Character Vibes" as Cath would say. This particular coat is a rental from Rent the Runway! If you follow me over on my personal instagram, you know that I have been having so much fun renting coats this winter. (If you are interested in subscribing to RTR, use code RTRREBECCAP to save on your first two months.)
If renting isn't your thing and you are in the market for a new faux fur this winter, here are some great options and I am currently working on a full blown outerwear post, too, so stay tuned for that.
FINALLY, the boots. The Ranch Road Presidio boots are the real deal. They are handmade, real cowboy boots and have been my pride and joy since the brand gifted them to me last year. If you are looking to invest in a pair of real cowboy boots, I highlyyyyy recommend checking out Ranch Road Boots.
AND THERE WE HAVE IT! The return of the OOTD in all its glory. And a darn good one, if I do say so myself.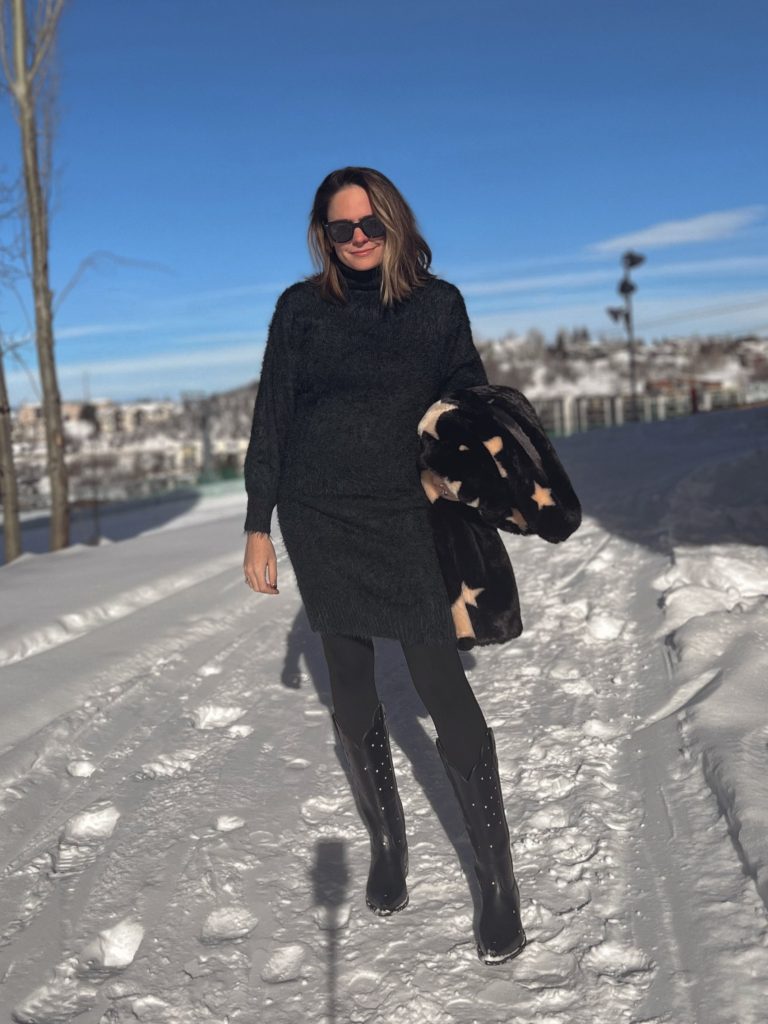 Do we like bringing back the OOTD or do you guys prefer the round-up style posts? LMK!
~ PIN FOR INSPO LATER ~