A little photo diary and details from our stay at Charlottesville, VA Luxury Resort Keswick Hall.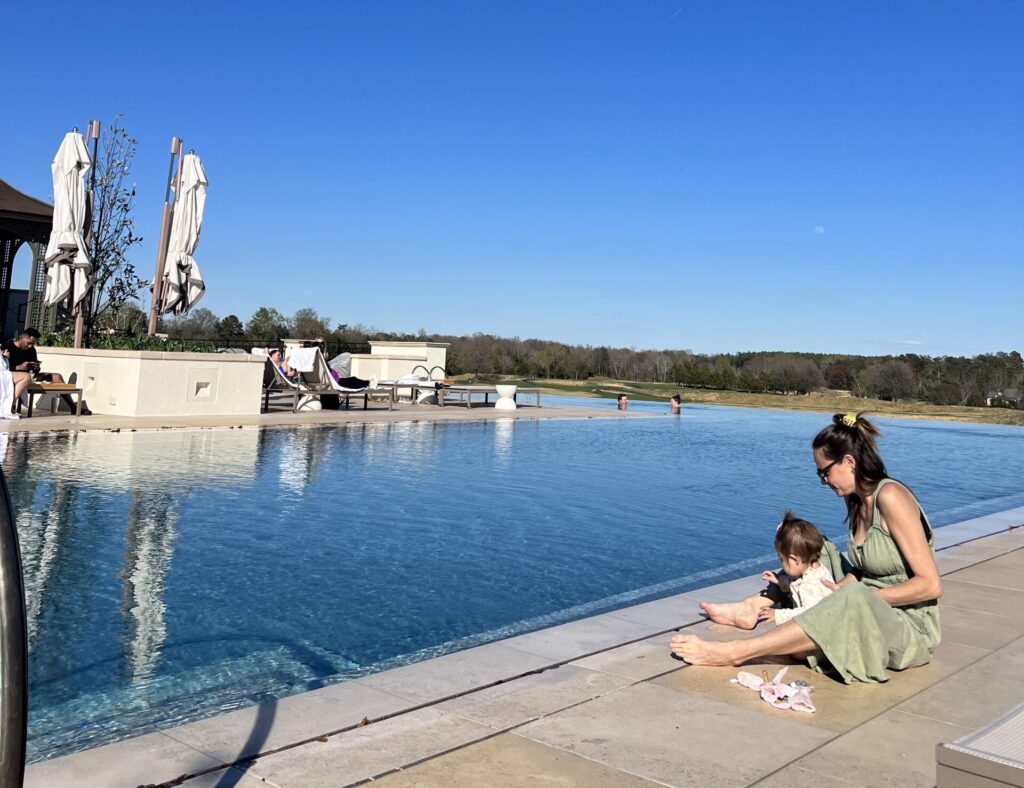 To say we are lucky to have such great luxury vacation options in Virginia would be an understatement.
Having littles makes traveling a little more *complicated* so it is really nice to have options close to home where we can hop in the car and feel like we are on vacation just an hour away from our own front doors. We recently got to stay at Keswick Hall to kick off Spring Break and it was such a lovely, relaxing, time.
Located just a few miles outside of Charlottesville, surrounded by horse farms, a beautiful golf course, wineries and more, Keswick is beautiful destination. It has a boutique hotel and luxury feel all at once. On top of all of that, it is home to Marigold, a Jean-Georges restaurant which makes it a destination in and of itself.
See Video from our Stay HERE and HERE. Keep reading for more!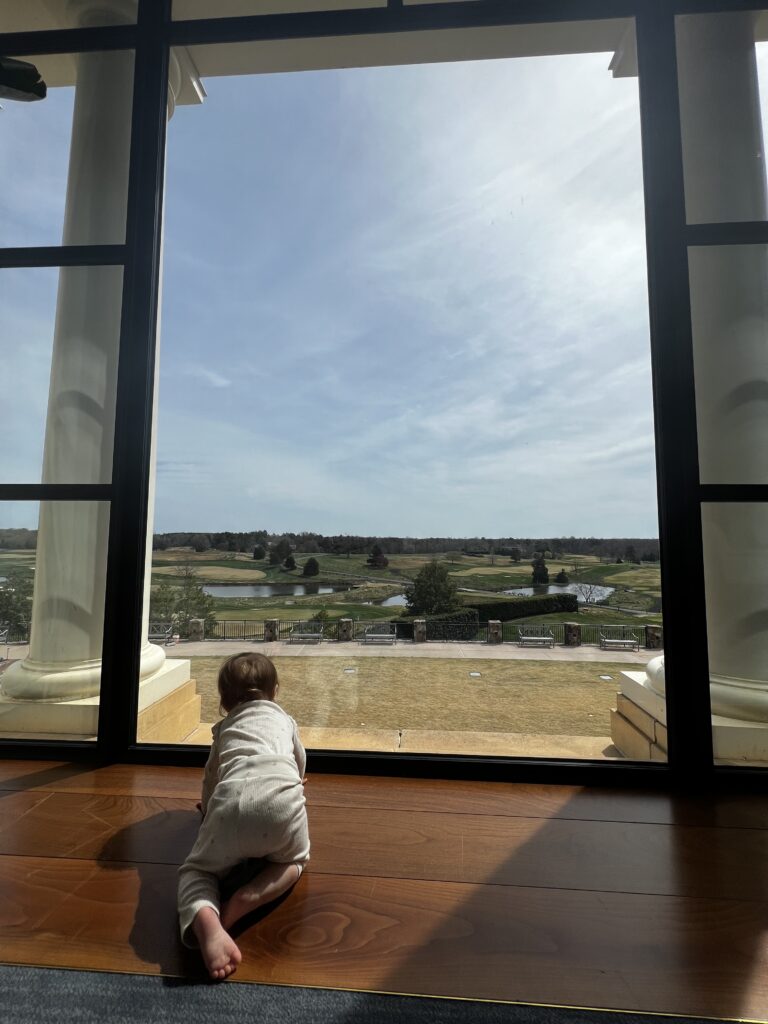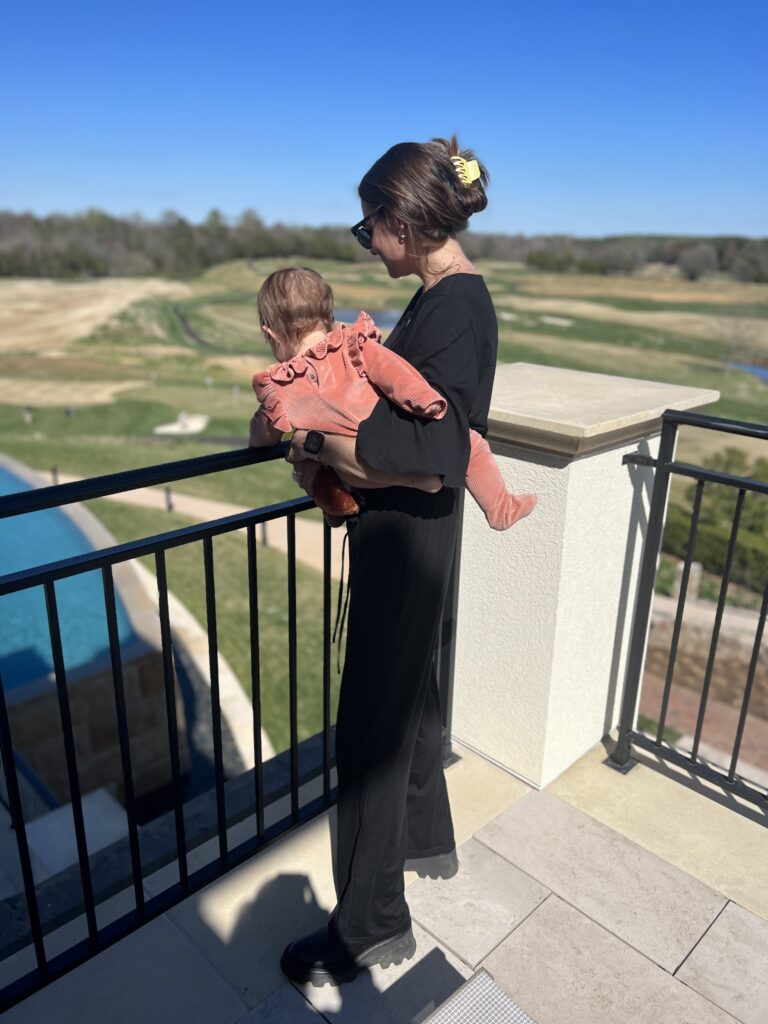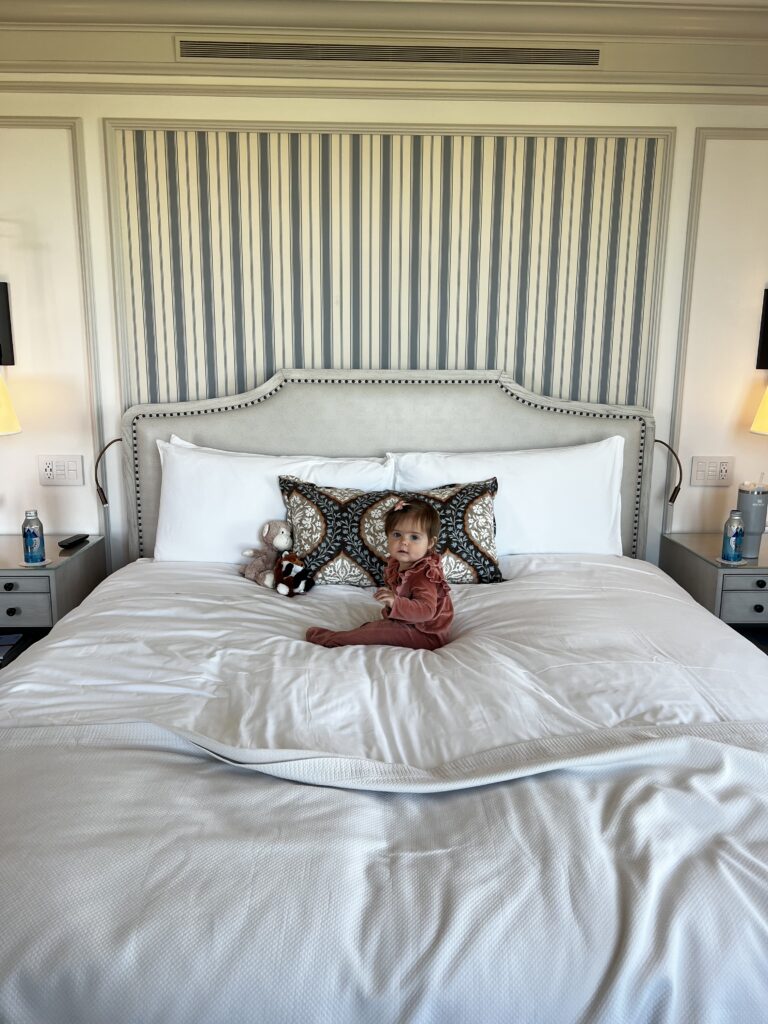 THE ROOMS
Decorated with delightfully modern yet classic decor and the comfiest beds, the rooms at Keswick are divine. Take it from me that you should book a balcony room. Have your in-room dining or breakfast coffee and pastries out on the balcony overlooking the property and golf course to take in allllll the resort has to offer. And the CLOSET, O M G. I could have moved in there. I will be saving the photo for inspo in my *dream* closet. It may seem like a silly detail but it makes all the difference when your suitcase isn't taking up precious space in the room – especially when you have lots of *stuff* traveling with a baby. The bathrooms are stunning as well and the Red Flower bathroom products smell delicious.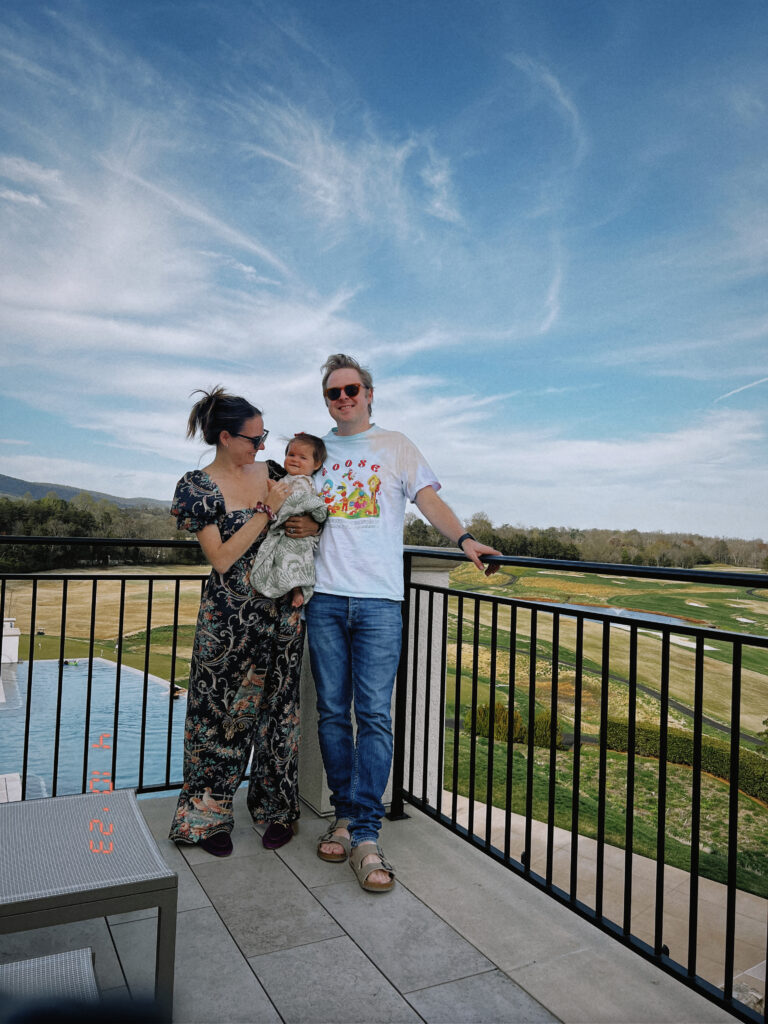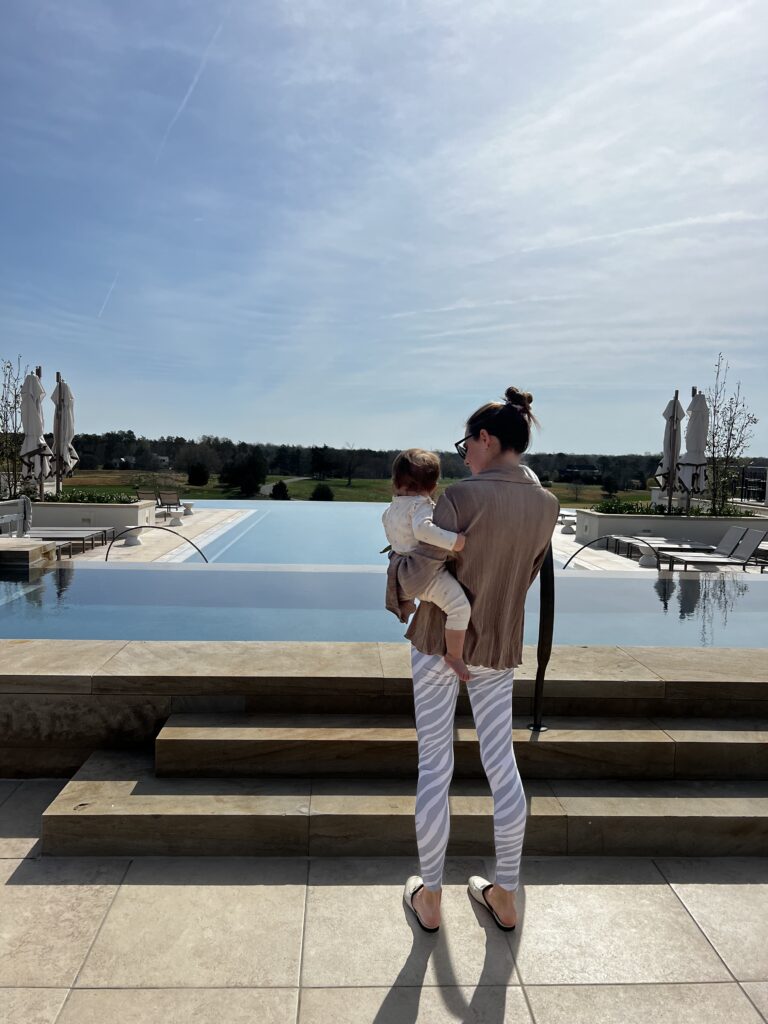 THE POOL
If this T-Shaped infinity pool doesn't convince you to book a visit or add Keswick to your bucket list, we must have different taste hehe. This infinity pool is the best I have ever seen! It is the perfect place to catch some rays during the day and enjoy a cocktail beside in the evening and instantly transports you from your current reality. These photos should tell you all you need to know! PLUS, The fact that we were able to enjoy it with a baby girl who is unsure about water should say a lot. Don't worry, it is heated in the cooler months!
There is also a luxury spa on the property that I will for sure be checking out next time! This time my very sweet, fussy baby made things a little complicated 🙂 But I have heard only good things. And who doesn't love a spa day?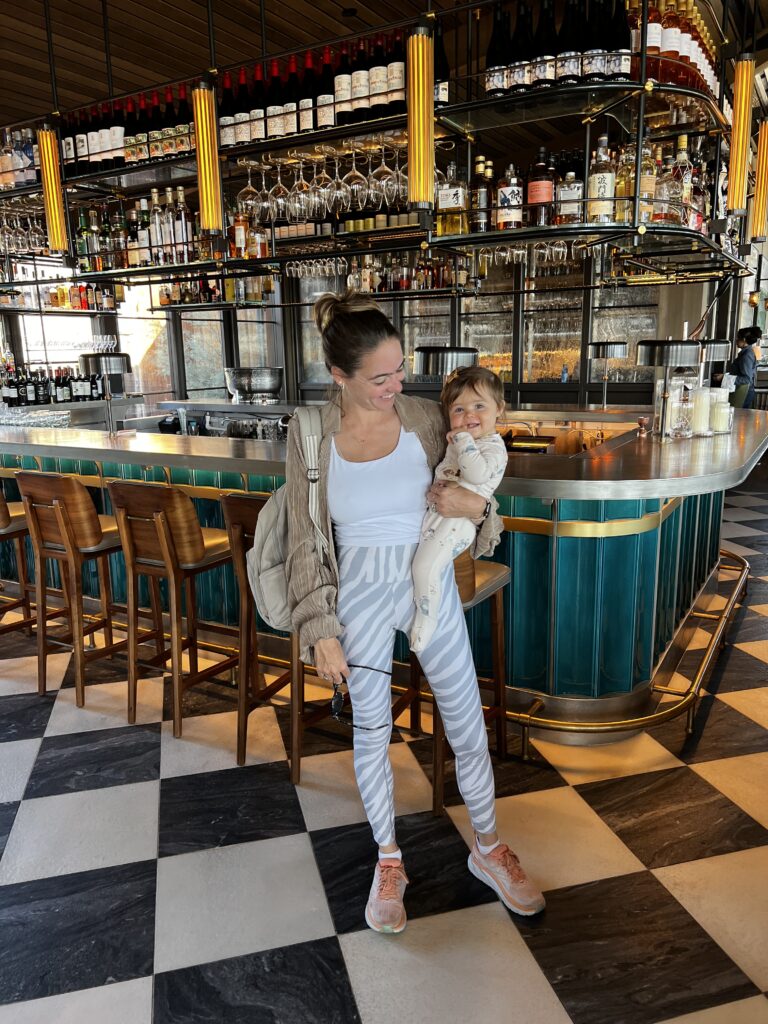 MARIGOLD BY JEAN-GEORGES
If you aren't familiar with famous chef Jean-Georges, now you will be! He is a French chef with restaurants all over the world and we are oh so lucky to have one in our backyard. His culinary expertise shines through as the entire meal is an *experience* You MUST start with the Crispy Sushi at Marigold, it is delish. Then get the Warm Shrimp salad. I also got the fried rice which seems simple but wow it was NOT. And John got the lamb and said it was fantastic too.
The bar, seen above, is the centerpiece to the restaurant and I look forward to coming back sans baby some day to pony up for a cocktail and apps with Johnny or my girls.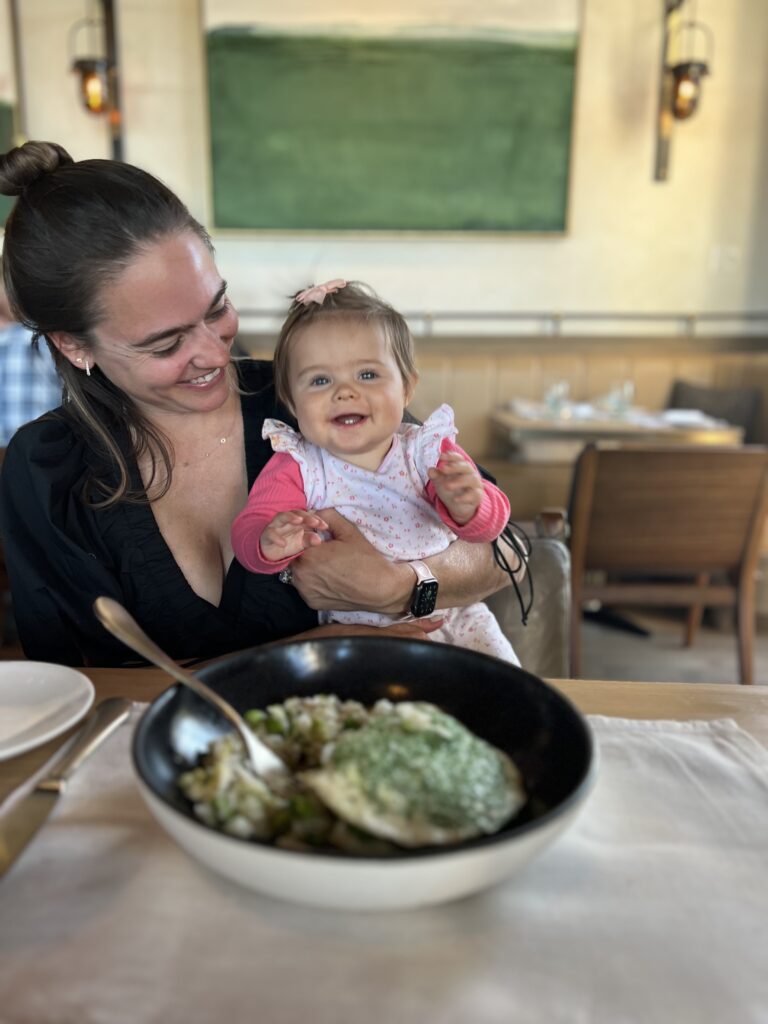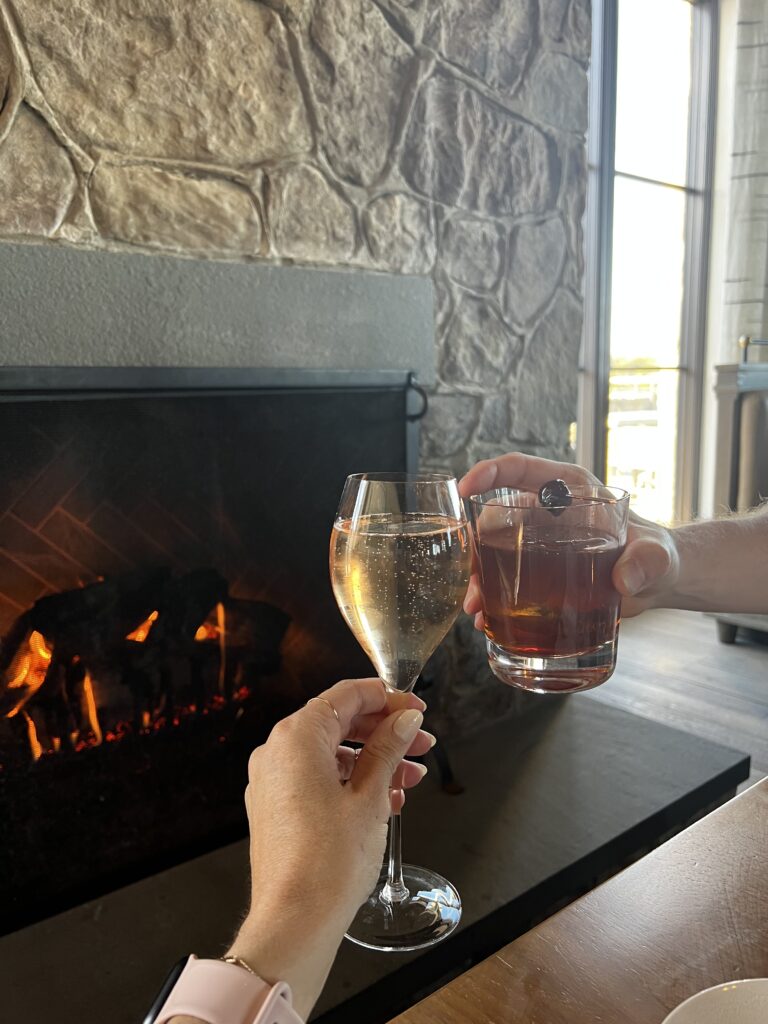 The vibe from the second you pull up to the front instantly transports you and you feel like you are in Europe on a luxury vacation. The whole property is carefully curated to make you feel that way throughout your stay!
If you aren't local to Virginia like we are, don't worry, there would be PLENTY for you to do to make an entire vacation of it. Did you know Virginia is home to hundreds of wineries? A few favorites are nearby (Keswick, Blenheim, Jefferson, Trump). Thomas Jefferson's Monticello is just down the road and Charlottesville is home to some of my favorite restaurants and of course, my alma mater University of Virginia.
I would be happy to chat more with you about our trip to Keswick – just leave a comment, send an email or a DM.